Frosts, freezes & fairs
Posted by

Steve

on

Monday, 18 March 2013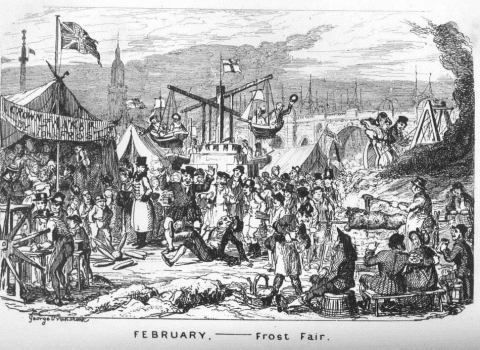 Hello again! It's Steve from London Cabbie Tours here, I've been giving lots of taxi tours around London lately, of course with the heating in my taxi set to 'lovely & warm'! I'm not sure the London Tour Bus Company can make the same claim – it looks pretty chilly up on that top deck at the moment!
Given the recent icy weather, I thought I would tell you a bit about previous icy winters, as well as some insight into frosts, freezes & fairs.
The winter of 1947 was particularly bad, when snow fell heavily in England, and somewhere in the country saw snow every day for 55 days straight. We had snow drifts of seven metres deep, frozen rivers & icy temperatures. February 1947 was the coldest February on record in many places, however this was trumped by 1963, which was the coldest for more than 200 years. The sea even froze in several places! On Boxing day 30cm of snow arrived, along with blizzards and snowdrifts. The snow stayed for two more months, before finally thawing in early March. These two winters made living here feel more like the Arctic, than the UK. Brrrrrr I feel cold even writing about it!
If you book one of my private taxi tours, I actually take you to Southwark, where we discuss frosts, freezes & fairs in more detail. The earliest recorded 'frost fair' was in 1608. At these fairs there were horse & coach races, Ox roasting, and groups of musicians playing. Stalls were pitched along each embankment, selling everything from novelties to fresh mutton pies. There was also a fuddling tent, which sold alcohol. There was a story of a lady who drunk too much & ended up crashing through the ice. Whilst sinking into the icy depths the ice closed shut, severing her head & reports of the time told of her head bouncing along the ice. Ouch! The watermen who usually earned a living by ferrying people across the River Thames had to find other work, so they would clear pathways across the ice for rich people. The last frost fair was in 1814, although I did hear a rumour that Boris had one planned for last week!
Hope you like that little snippet of info. Bye for now, Steve.