Photographer's Delight Tour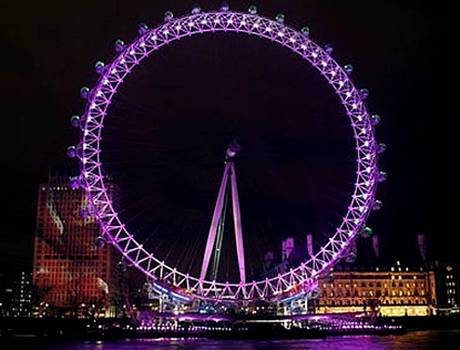 Hello!  How lovely it was to have the pleasure of taking a young couple around London recently in full wedding regalia, accompanied by their photographer, to take photos during the morning before their wedding which was taking place that afternoon.  They were to be married, not in a traditional manner, but on London's number one tourist attraction The London Eye!
The photographer took hundreds of photos from our start at Sir Giles Gilbert Scott's Battersea Power Station (consisting of 6.3 million bricks) to Oxford Circus where the bridegroom had proposed, right in the middle of the junction! 
St. Bride's Church built by Sir Christopher Wren in 1672, in Fleet Street was a church we could not miss on this special day as it has a tiered spire which wedding cake design is based on.  There has been a church on this site since the 7th century and there are Roman ruins in the basement.
A Vivian Westwood shop was on the couple's agenda, due to the fact that she was the bridegroom's favourite designer – he was wearing a Vivian Westwood design for his wedding.  I once had the pleasure of picking her up in my Taxi (before it became a 'cow cab').
They had some lovely photos taken on the Serpentine Bridge in Hyde Park, a beautiful and peaceful setting.  As well as photos at Marble Arch, a beautiful but busy setting.  No, we did not try and have photos taken at Hyde Park Corner – the busiest roundabout in London!
Some of the other places they chose to have photos taken were:
Albert Bridge

King's Road Town Hall

Royal Albert Hall

Piccadilly Circus

Trafalgar Square

St. Paul's Cathedral

The Lloyds Building

The Gherkin

Tower Bridge

The Tower of London

The Globe Theatre

Waterloo Bridge

The London Eye

Westminster Bridge

Big Ben

Houses of Parliament

St. Margaret's Church

Westminster Abbey

Wellington Barracks

Buckingham Palace

St. James' Palace

Admiralty Arch

Horseguard's Parade

Downing Street