Ironmonger Lane
Posted by

Steve

on

Thursday, 19 September 2013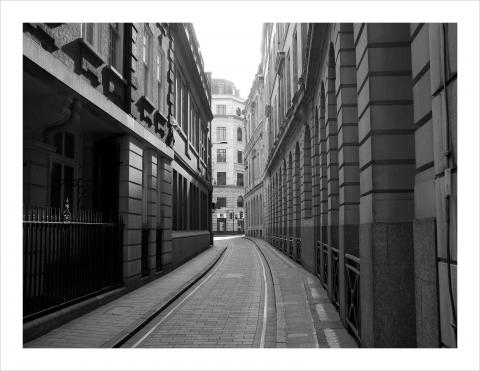 Hello again!  Just a few lines to let you know how things have been going at London Cabbie Tours.  Thank you very much for all your kind reviews, your interest and your confidence in my tours.  Little did I know, when one of my customers told me about Trip Advisor, that I would be climbing the ratings to the dizzy height of number 47 out of 480 activities in London.  There have been 26 reviews giving the tours a 5 out of 5 rating.  Your enthusiasm feeds my enthusiasm, and I will continue to offer bespoke tours to your requirements, which not only keeps the tours fresh but also my interest is fuelled researching the sites you want to see!
I would like to tell you about an application that I made recently for a place on a course to study a City Guides Course of London at the Guildhall.  In my application I was required to explain why I wanted to participate in the course.  It also involved an interview in front of 2 examiners and 3 fellow students where I had to talk, after prior research, for 5 minutes on a given subject which was Ironmonger Lane in the City of London.  My presentation on Ironmonger Lane follows:
If you are standing in front of the Guildhall entrance, I would ask you to cross the Guildhall Yard to Gresham Street.  Facing you is King Street, this road was built by Sir Christopher Wren after the Great Fire of London in 1666, to relieve the only 2 narrow streets which led to the Guildhall – Lawrence Lane and Ironmonger Lane.  It was said that wealthier people's carriages were unable to pass each other as the lanes were too narrow. 
As we take a walk down Ironmonger Lane towards Cheapside (as the name suggests a lane inhabited largely by ironmongers until they moved to Fenchurch Street in the 15th century).  We pass number 11, which contains one of the few in situ remnants of Roman London, a section of mosaic pavement with a series of floral motifs, which was part of a Roman house of the 2nd century.
If we follow the road further we have St. Olave's House (now a solicitor's office) which was the church of St. Olaves, which lies between Ironmonger Lane and Old Jewry.  It was also destroyed in the Great Fire of London and rebuilt by Sir Christopher Wren in 1679.  It cost £5,580 - £10 of that money was paid to the then still ruined St. Paul's Cathedral for rubble.  It was demolished in 1887, except for the tower and the West wall.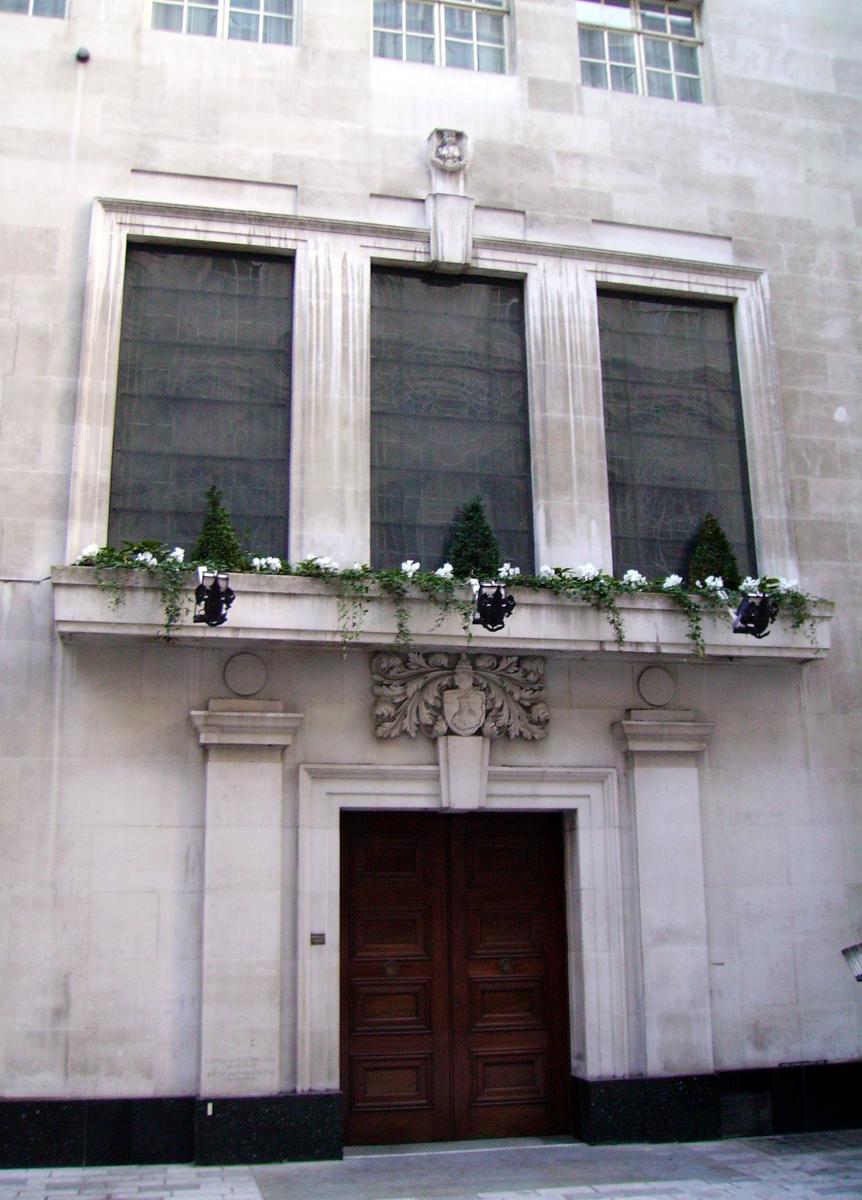 Further down the lane is Mercer's Hall (latin for merchant) the number one Livery Company of the City of London's 12 great City Livery Companies, given Royal Charter in 1394, but believed to be of older origin.  The Company's aim was to act as a trade association for general merchants and especially for exporters of wool and importers of velvet, silk and other luxurious fabrics.  Today the Mercer's Company is more of a charitable organisation.  The Company's motto is 'Honor Deo', Latin for Honour to God.  The first Mercer's hall on this site was lost to the Great Fire of London in 1666, second to the Blitz in 1941 and the third which stands today was built in May 1958.  The hall incorporates fittings from the old hall, 17th century woodwork and Victorian stained glass.  The Mercer's Company is the only Livery company to have its own private chapel.  There are three ways to become a member:
Membership of parents
Freedom of Redemption (by interview and if approved, pay a small sum of money called 'a fine'.
Honour the individual (e.g. Winston Churchill)
As we approach the end of Ironmonger Lane at the junction with Cheapside, on our left is the site where Thomas Beckett was born in 1120.  Beckett was made Archdeacon of Canterbury in 1154.  He gained a position in the household of Theobald of Bec, the Archbishop of Canterbury.  Under his guidance, Beckett was sent on important missions to Rome and studied Canon Law in France.  Beckett was named Lord Chancellor in 1155.  An interesting fact is that some Royal children were fostered out to noble households.  Henry II sent his son, Henry, to live in Beckett's household, in which Henry said he received more fatherly love from Beckett in one day, than his father showed in his entire life.  Beckett was made Archbishop of Canterbury in 1162.  Henry II hoped Beckett would put the Royal Government first rather than that of the church which was not to be, and conflict ensued over the rights and privileges of the church.  Beckett fled to exile in France in 1164 until 1170, and on his return was murdered by four knights of the King in Canterbury Cathedral.  He was martyred in 1173.